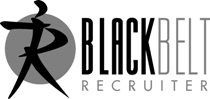 Black Belt Recruiters are the elite of the staffing world. They have both the training and experience to call themselves the BEST. Black Belt Recruiters account for less than 1% of all recruiters in the staffing industry.
A Black Belt Recruiter:
Is committed to high ethical standards.
Invests in industry specific training and keeps abreast of the latest trends.
Often specializes in niches where they know the market forward, backward, inside and out. They know who is hiring, who refers candidates, and which candidates may be available. They are experts.
Delivers results. Frequently it isn't the "most qualified" candidate that gets a job...it's "the most qualified candidate that can be presented quickly" that gets selected. Black Belt Recruiters know how to source and recruit the best candidates quickly.
Yields excellent Return On Investment. Just as committing to Black Belt Recruiter standards yields great return for the individual recruiter, hiring a Black Belt Recruiter also leverages an organization's investment toward client satisfaction and getting results that matter.
According to the United States Bureau of Labor Statistics, there are over 210,000 recruiters in the United States alone, and that number is increasing at the rate of 17% each year. Recruiters earning their Black Belt designation have proven that they deserve the recognition that comes with being in the top 1% of all recruiters.
Through continuing education, Black Belt Recruiters remain committed to being the best and staying ahead of their peers. They utilize extra training to enhance their skills and maximize results. Their experience combined with their commitment to training and ethical standards earns them respect throughout the staffing industry.
In addition to being excellent recruiters, Black Belt Recruiters make great organizational leaders and trainers. Because of their leadership in the industry, they are often qualified to offer insight to peers, clients, and candidates.
Qualifications
Black Belt Recruiters earn iPASS certification through a combination of on-the-job experience and successful training.
Black Belt Recruiters have:
10+ years of verified experience; and
Agreed to uphold the Black Belt Recruiter Code of Ethics .
Training
The Black Belt Leadership Committee recommends appropriate levels of training as well as the areas of study. Black Belt Recruiters make a personal commitment to stay abreast of new techniques and changes in the industry through the pursuit of approved training courses/programs as recommended (with particular focus on elements approved by the Curriculum Committee).
Certification Process
Black Belt applicants must:
In addition, all applicants acknowledge thatiPASS is currently waiving the initial training requirements and agree that no elective training courses will count toward continuing education requirements until after all basic Black Belt training requirements (once set by the Leadership and Curriculum Committees) have been met.