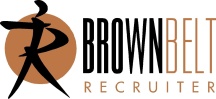 Brown Belt Recruiters are "rookies" that understand the value of having a professional designation to help advance their career. By displaying the designation, they tell the world that they are committed to being the best. It's still a long journey to achieve Black Belt Recruiter status, but anyone that does business with them knows that they work in an ethical manner.
Who would you rather do business with...the new recruiter that you know nothing about? ...or a new recruiter that values professional ethics in how they represent you? The choice is obvious and both clients and candidates know it.
Client hiring managers gain value in working with Brown Belt Recruiters. They know that an ethical recruiter is an efficient worker that can be trusted to get results. Brown Belt Recruiters don't take short cuts or involve themselves in illegal recruiting activity. Brown Belt Recruiters are impact makers and their certification attests to the respect that they have for the industry and their chosen profession.
Qualifications
Brown Belt Recruiters earn their iPASS "seal of approval" by making a commitment to develop their career in adherance to the Black Belt Recruiter Code of Ethics .
Brown Belt Recruiters have:
Less than 2 years of experience; and
Agreed to uphold the Black Belt Recruiter Code of Ethics .
Training
Their is no training requirement to be a Brown Belt Recruiter. However, training requirements may need to be met in order to advance through the program to other levels of achievement. Additional training requirements are being evaluated by the Black Belt Leadership Committee. Currently, however, the iPASS program does not have any training elements.
Certification Process
Brown Belt applicants must:
In addition, all applicants acknowledge that iPASS is currently waiving training requirements. Applicants agree to complete any future training requirements that may be set forth by the Black Belt Leadership and Curriculum Committees.