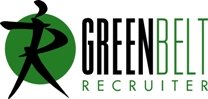 Green Belt Recruiters have survived their "rookie" years and already have two or more years of experience as a recruiter. They have completed appropriate training, and as a result of having gone through the certification process, have demonstrated that they are committed to developing a career in alignment with the highest of industry standards.
This extra investment in training and certification places them well ahead of other recruiters that only have two years of experience, but lack training and certification.
Green Belt Recruiters bring value to hiring managers by applying their additional training to produce actionable results quickly. Their certification attests to their ability to source, recruit, and place highly matched candidates more effectively than their non-certified peers. As a result of their success, Green Belt Recruiters are more sought after in the job market and can command a greater compensation.
Qualifications
Green Belt Recruiters earn their iPASS "seal of approval" through a combination of on-the-job experience and successful training.
Green Belt Recruiters have:
2+ years of verified experience; and
Agreed to uphold the Black Belt Recruiter Code of Ethics .
Training
The Black Belt Leadership Committee recommends appropriate levels of training as well as the areas of study. Green Belt Recruiters make a personal commitment to stay abreast of new techniques and changes in the industry through the pursuit of approved training courses/programs as recommended (with particular focus on elements approved by the Curriculum Committee).
Certification Process
Green Belt applicants must:
In addition, all applicants acknowledge that iPASS is currently waiving the initial training requirements and agree that no elective training courses will count toward continuing education requirements until after all basic Black Belt training requirements (once set by the Leadership and Curriculum Committees) have been met.